Contact
South Coast Medical is committed to providing comprehensive general practice services and care to individuals, families and the local community. All South Coast Medical clinics are fully accessible to the disabled - with disabled parking and toilet facilities.



Our Contact Details
For administration queries only please contact jane@scmc.com.au PLEASE NOTE: DO NOT SEND ANY MEDICAL REQUESTS/QUERIES OR APPOINTMENTS QUERIES VIA THIS EMAIL. PLEASE CALL THE CLINICS DIRECTLY
Your Rights
Please feel free to talk to the Team Leaders located at each clinic, or the Administration Manager, about any problems you have with the services we provide. If you have a problem with the practice we would like to hear about it. You may prefer to write to us or use our suggestion box in the waiting room. We take your concerns, suggestions and complaints very seriously and we want to know if you are concerned about any aspect of our service or have suggestions for improving our services.
---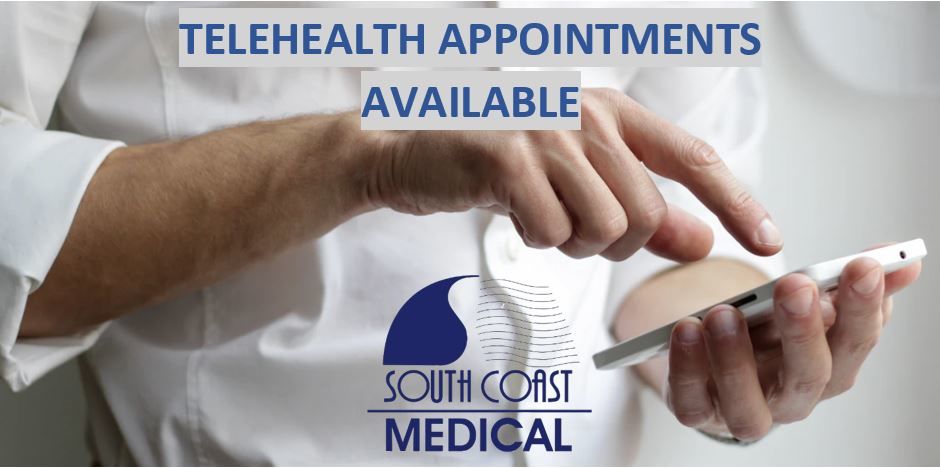 Do you have a telehealth video consultation booked with one of our practitioners? At your allocated appointment time, please click on the relevant clinic waiting room below. Your practitioner will be with you as soon as they are free.
Telehealth Appointments (available during COVID-19 pandemic)
South Coast Medical is continuing to service our patients during the COVID19 pandemic. All our clinics are actively responding to the risks associated with COVID-19, so that we can continue to provide quality care and support to our patients and staff.
Stopping the spread of the virus is paramount. Policies have been implemented at South Coast Medical to ensure we minimise risk to anyone visiting our clinics. You will notice we are pre-screening all patients before entering the clinics, reduced waiting room seating, screens in front of reception and hand sanitiser available for patient use. We have also removed all magazines, toys, coffee machines and water coolers from our waiting rooms. Our reception staff are regularly disinfecting the reception desk, door handles and facilities. All GP's practice safe hygiene techniques between patients. You are also welcome to wait in your car and call reception to let them know you've arrived if you prefer. Reception will then call you when the doctor in ready to see you. We want you to feel safe in visiting our clinics and we will we continue to adapt as further recommendations are made.
If, however, during the time of the pandemic you feel more comfortable not attending the clinic in person, and to ensure that South Coast can provide continuity of optimal patient care we are offering patients a phone consultation appointment with the GP at any of our clinics. These are of benefit particularly to those in self isolation, those who are symptomatic or those that are immune compromised. Telehealth appointments are a way for patients to get a consultation with our general practitioners remotely, whether it be over the phone or via internet. The GP may still request to see you in the clinic for further treatment.
All our GPs currently have access to phone consultations.
In addition, we are offering FaceTime, Zoom and Skype consultations with many of our GP's. Note, that you will need a good internet connection for this to occur successfully.
If you feel that a Telehealth appointment is right for you or alternatively if you would like to come into the clinic for an appointment call any of our clinics to book in today. Please note that telehealth appointments may incur a private fee payable at the time of consultation. You will then receive a Medicare rebate on this.
After Hours Service
Please phone any of our clinics after 6pm weekdays to reach a GP from South Coast Medical (charges may apply). Later in the evening this will be serviced via our Telephone triage services are provided by the DoctorDoctor group in the evenings, overnight and on weekends and public holidays. This service is only available to our current patients.
In the case of an emergency, please phone 000 or attend the Emergency department at the Rosebud or Frankston Hospital.
Our Rosebud clinic is located near the Rosebud Hospital (Peninsula Health). This clinic is open on Saturday mornings and some Public Holidays. During peak seasonal periods such as Christmas/New Year and January school holidays, the Rosebud clinic is open for increased hours on weekends and Public Holidays.