Talk about your health with a doctor who 'gets' you. Like you, many of our doctors are dads, husbands, partners and workmates. We know it can be tough to ask for support and to stay motivated to do things differently.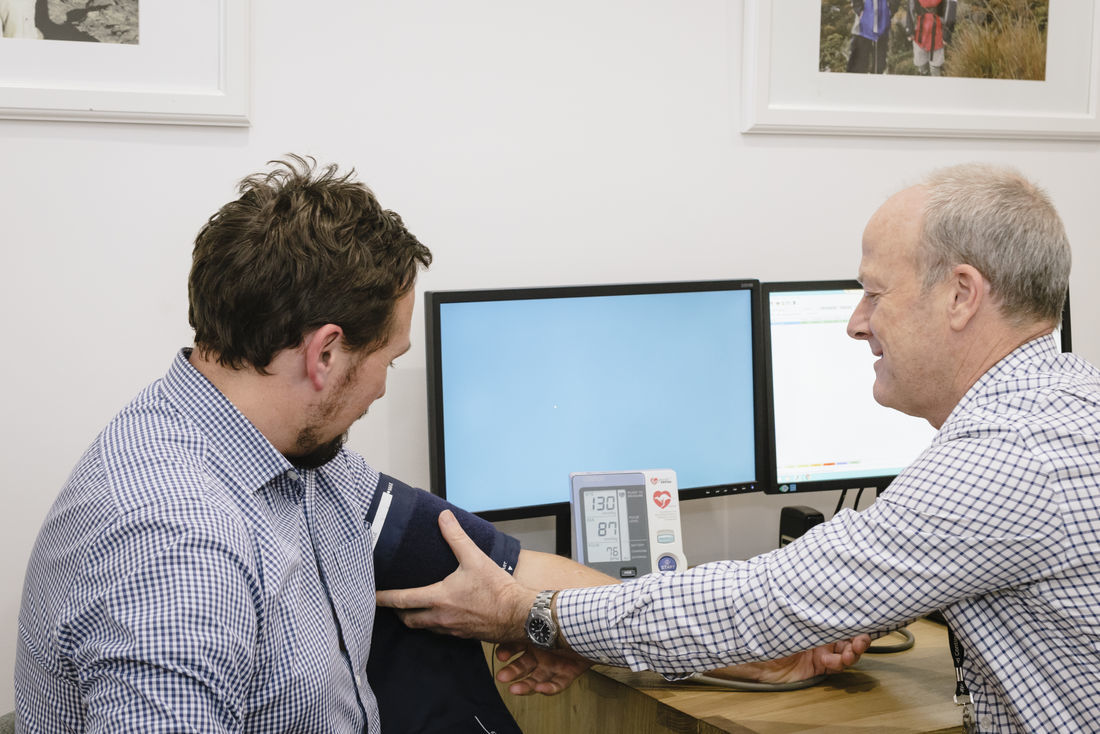 Book a men's health check
You won't regret it. You get to do a set of straightforward tests that will show you how healthy you are right now and pinpoint anything we need to look at for your long-term health.
What to expect
Our men's health checks cover common health concerns including:
Prostate problems
Diabetes
Heart health
Skin Check
Erectile dysfunction and sexual health
Mental health
---
What to ask
We can discuss anything that's worrying you including all of the things listed here.
However, these three questions reflect some of the concerns for men:
Should I get tested for Prostate Cancer?
Am I at risk of Diabetes?
How healthy is my heart?
---
Should I get tested for prostate cancer?
If you're concerned about your risk of prostate cancer or uncertain about the value of testing, make this a priority point to discuss with your doctor. They will help you make an informed decision about whether or not to proceed with one or both of the most common tests.
If you do choose to get tested and are aged between 50 and 69, consider having the tests every two years.
Prostate cancer testing is covered under Medicare.
---
Am I at risk of type 2 diabetes?
If you:
have a family history of diabetes
are worried that your weight and your lifestyle may be putting you at risk
think you may have some symptoms of diabetes
Your GP can arrange a fasting blood test to check your blood sugar levels. They can also support you to make healthy changes to help protect you against diabetes and other chronic conditions.
The AUSDRISK self-test may also give you an indication of your current diabetes risk.
Read more about Diabetes Management.
---
How healthy is my heart?
Cardiovascular disease is one of the leading causes of death for Australian men, so this question is well worth asking!
Your doctor can estimate your level of risk by checking your blood pressure and cholesterol and discussing your family history. They can also arrange an in house electrocardiogram (ECG) if you need one.
If you need to make lifestyle changes our experienced allied health team can help you get and stay on track.
---
Skin cancer screening
It is estimated that 8,899 Australian men will be diagnosed with skin cancer in 2019.
We offer skin cancer checks at our Rosebud and Rye clinic. The skin check takes 30 minutes and involves a registered general practitioner completing a systematic total body skin check.
The doctor will discuss the results of the skin check with you and will then organise any further follow ups if required.
Book a skin check at our Rosebud Skin Cancer Clinic.
---
Free checks for 45 and 49 year olds
We understand that you might feel too busy or too tired to book a check up. But taking a look at your health and lifestyle in middle age can make a difference later.
Book your free health check online or phoning your preferred clinic.
---
The last word
Men need regular health checks. You can trust us to help you deal with any early warning signs or manage current health issues regardless of how simple or complex they turn out to be.
---
Download a new patient registration form
Hand us your completed form at your first appointment. If you have any questions one of our friendly administrators will be happy to answer them.