COVID-19 Vaccine Information
PLEASE READ ALL DETAILS BEFORE MAKING A BOOKING
PLEASE NOTE THAT COVID VACCINE APPOINTMENTS CAN ONLY BE MADE VIA A COVID VACCINE APPOINTMENT, YOU CAN NOT RECEIVE THESE IN A STANDARD APPOINTMENT
South Coast Medical as a group of clinics are involved in administering covid vaccines as part of the national vaccine rollout. We are now administering both vaccines for over 60s and those aged under 60. At this stage, Capel Sound is the only clinic within the South Coast Medical group that is able to administer a vaccine to those under 60 years of age.
Like many general practices participating in the rollout, we will be receiving limited weekly quantities of the vaccines so we ask for your patience while we endeavour to book in eligible patients.
ONLINE BOOKINGS ARE NOW AVAILABLE: We will be operating clinics within business hours and will also run limited clinics afterhours (Saturday afternoons) at some of our clinics.
Vaccines will not be administered in standard appointments as they are multi dose vials, they will need to be administered in a multi person clinic setting (patients seen in room privately).
TO FIND OUT WHICH VACCINE YOU ARE ELIGIBLE FOR PLEASE COMPLETE THE ONLINE CHECKER: Eligibility Checker
Further resources concerning the rollout, eligibility, decision making etc can be found on the Government Covid Resources page here
You can view the Covid Vaccine Fact Sheet from the Dept of Health via this link FactSheet

WE ARE PROVIDING APPOINTMENTS AT DIFFERENT DATES/TIMES AT EACH CLINIC, SO YOU MAY LIKE TO CHECK ANY OF THE SCM CLINICS TO FIND A SUITABLE TIME: Click on the HotDoc box below to go to the bookings page:
On the bookings page, you can scroll to your preferred clinic and press the green Book An Appointment Button.
Who is the appointment for? Click on the appropriate box from the appointment screen

You will then be asked if you are a new or existing patient. Click on the appropriate box from the appointment screen
You must then select the appointment type - for a covid vaccine appointment, you must select a Covid Vaccine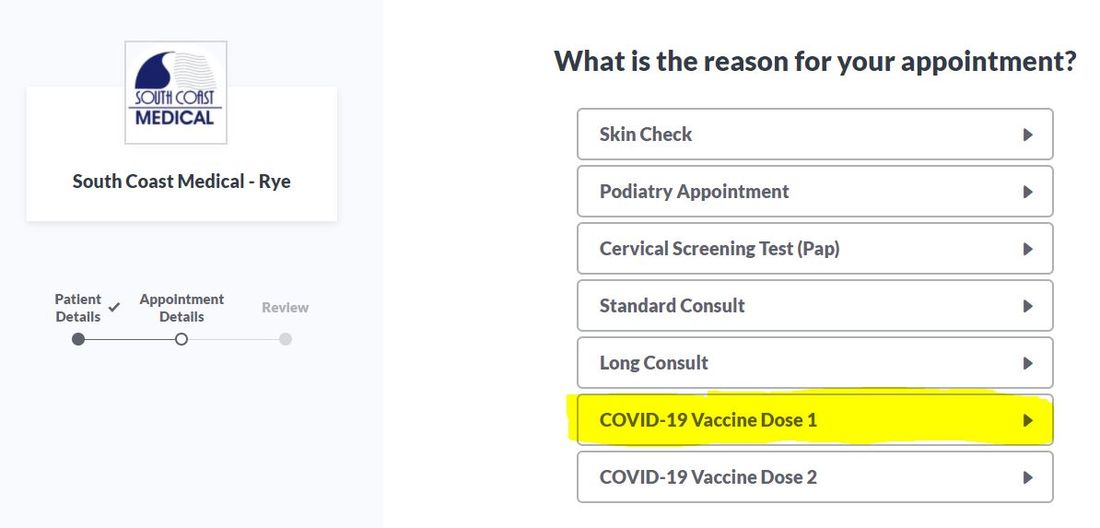 A list of GPs and Nurses administering the vaccines will appear with their first available times. To see more times, click on the blue arrows to see further times with the practitioner.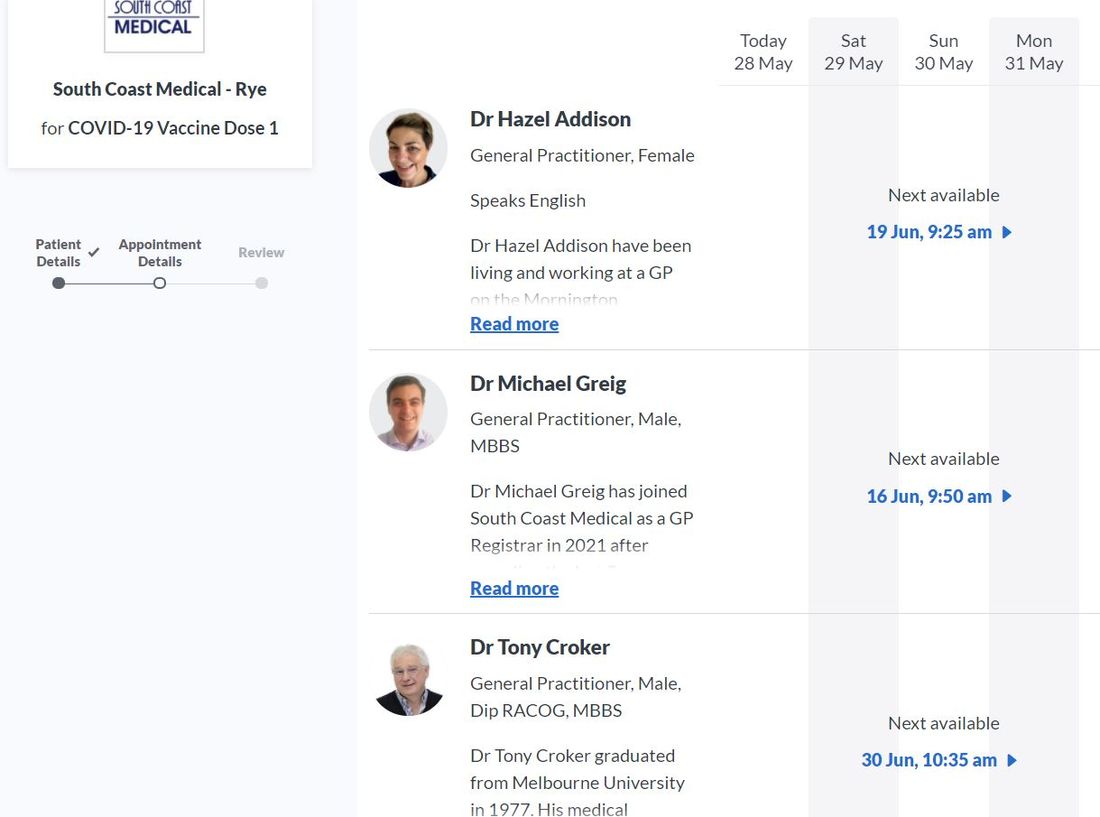 PLEASE NOTE THAT COVID VACCINE APPOINTMENTS CAN ONLY BE MADE VIA THE COVID VACCINE APPOINTMENT, YOU CAN NOT RECEIVE THESE IN A STANDARD APPOINTMENT
If you have any problems please contact your local clinic