COVID-19 Vaccine Information
PLEASE READ ALL DETAILS BEFORE MAKING A BOOKING
South Coast Medical DO NOT provide vaccine exemptions outside of the ATAGI guidelines. Any mask or vaccine exemption must only be discussed with your regular practitioner.
South Coast Medical as a group of clinics are involved in administering covid vaccines as part of the national vaccine rollout. We are now administering AstraZeneca vaccines for any patient over the age of 18 years. We are administering the Pfizer vaccine to any patient over the age of 12 years and paediatric pfizer to 5-11 year olds.
CHILDRENS COVID VACCINES: AGES 5-11 YEARS ARE NOW AVAILABLE AT CAPEL SOUND AND RYE CLINICS.
Please ensure that you prepare your child prior to attending their covid vaccination appointment. This video from the Royal Childrens hospital is a great tool for them to watch in advance so they know what to expect. Click to watch video
If your child is particularly anxious have them bring along a trusted companion (teddy or soft toy), you can also purchase numbing cream/patches from the pharmacy and administer these in advance of the appointment. The appointments are for vaccinations only and as such are short in time, if your child is particularly distressed in the appointment, we may ask you to go in the next room for a calm down period and we will then try again shortly after. If they continue to be distressed, we may need to reschedule the appointment to a later date.
ONLINE BOOKINGS ARE NOW AVAILABLE: We will be operating clinics within business hours and will also run limited clinics afterhours (evening and Saturday afternoons) at some of our clinics.
Vaccines will not be administered in standard appointments as they are multi dose vials, they will need to be administered in a multi person clinic setting (patients seen in room privately).
TO FIND OUT WHICH VACCINE YOU ARE ELIGIBLE FOR PLEASE COMPLETE THE ONLINE CHECKER: Eligibility Checker
Further resources concerning the rollout, eligibility, decision making etc can be found on the Government Covid Resources page here
You can view the Covid Vaccine Fact Sheet from the Dept of Health via this link FactSheet

Many parents have questions relating to whether or not they should vaccinate their children. Read our blog and watch the Royal Childrens Hospital video here
WE ARE PROVIDING APPOINTMENTS AT DIFFERENT DATES/TIMES AT EACH CLINIC, SO YOU MAY LIKE TO CHECK ANY OF THE SCM CLINICS TO FIND A SUITABLE TIME: Click on the HotDoc box below to go to the bookings page:
On the bookings page, you can scroll to your preferred clinic and press the green Book An Appointment Button.
Who is the appointment for? Click on the appropriate box from the appointment screen

You will then be asked if you are a new or existing patient. Click on the appropriate box from the appointment screen
You must then select the appointment type - for a covid vaccine appointment, you must select a Covid Vaccine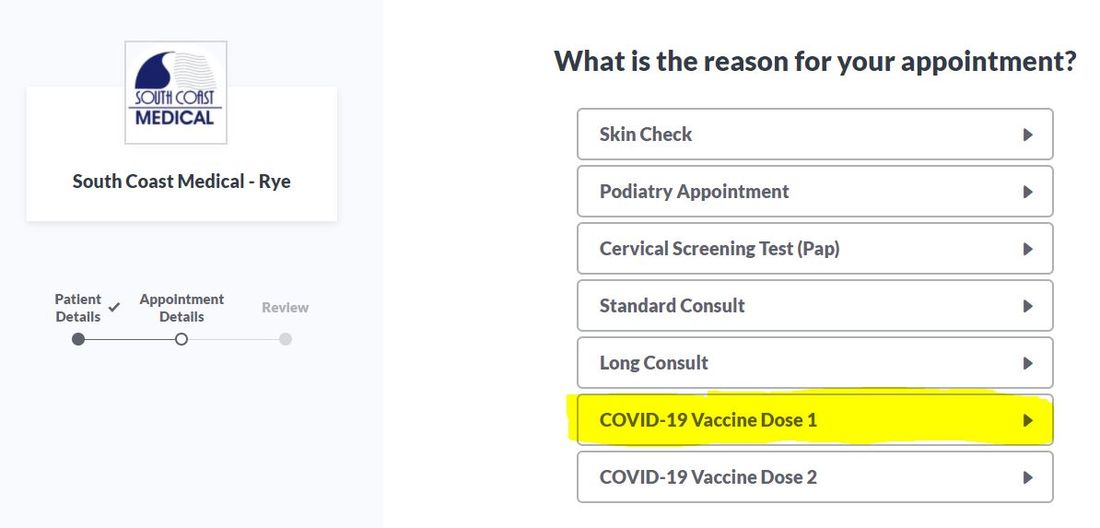 A list of Covid Vaccine Practitioner appointments will appear with their first available times. To see more times, click on the blue arrows to see further times with the practitioner.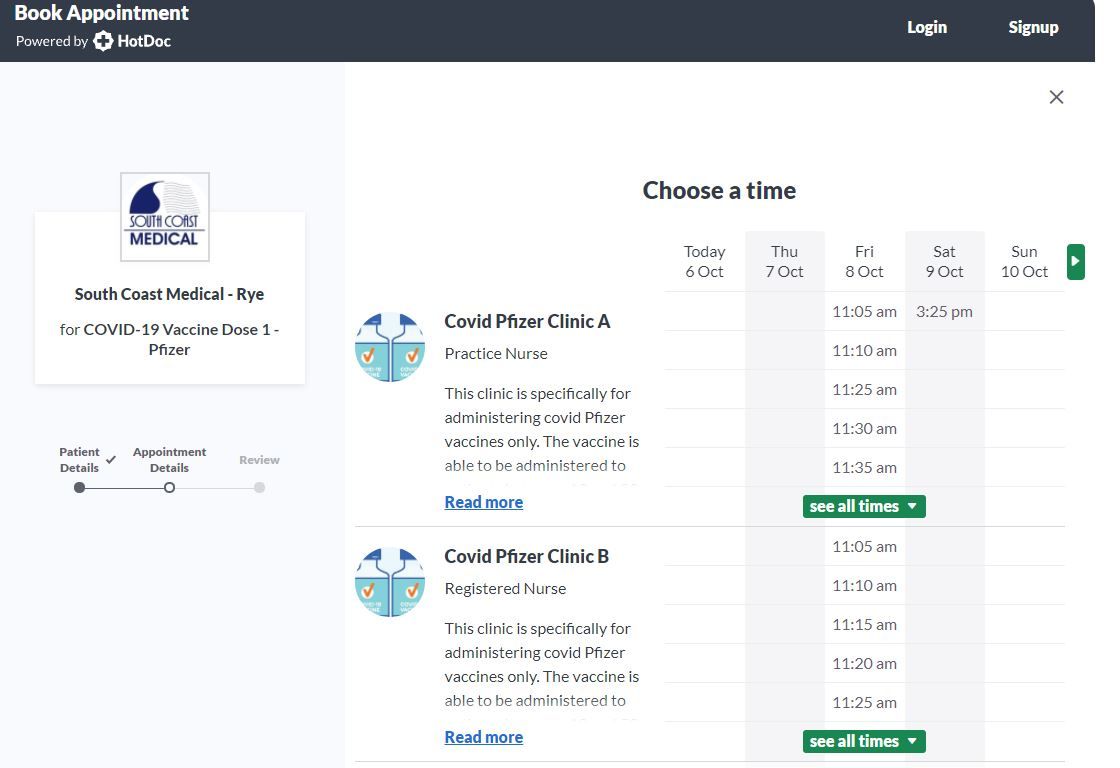 PLEASE NOTE THAT COVID VACCINE APPOINTMENTS CAN ONLY BE MADE VIA THE COVID VACCINE APPOINTMENT, YOU CANNOT RECEIVE THESE IN A STANDARD APPOINTMENT
If you have any problems please contact your local clinic